CONNPIRG launched this year's New Voters Project campaign by having a Zoom call with motivational speakers and starting their phone bank Wednesday, Colleen Keller, UConnPIRG chapter chair and fifth-semester history major, said.
The New Voters Project is the largest nonpartisan youth voter registration effort in Connecticut, Keller said. Their goal is to register 3,000 students by November, and to educate young voters on how and when to vote.
From 11 a.m. to 4 p.m. Wednesday, their first phone bank allowed CONNPIRG volunteers to talk to students about voting, how to register to vote and talk them through each step of the online registering process, Keller said.
"It's important to start now because we need to lay the foundation for a successful fall," Keller said. "The more students we register to vote, the more voices will be heard in the fall's General Election. If we can get started now, newly registered voters can feel secure in their ability to vote and we can supply them with more educational resources."
The Zoom call had seven guest speakers that spoke to why it is important to have young educated voters. The speakers included Kyleigh Hillerud, ConnPIRG state board chair, Denise Merrill, Connecticut Secretary of the State, Will Haskell, Senate Co-Chair, Higher Education and Advancement Committee, Gregory Haddad, State Representative, Josh Crow, UConn Undergraduate Student Government president, B Diaz, UConn Collaborative Organizing president and Mason Holland, UConn Collaborative Organizing public outreach and education chair.
Merrill said that Connecticut is one of the most restrictive states, in terms of who is able to get an absentee ballot and vote by mail. She said young voters need to be properly registered and educated on how they can ensure that their voices are heard.
"This is a very weird year in some ways because students may have registered last year and they are not at school right now," Merrill said. "We got all kinds of confusion over the rules and Connecticut is certainly no exception."
Hillerud said that the New Voter Campaign is to help show the biggest potential voting block that their votes can make an impact.
"On election day, young people will be the largest and most diverse group of potential voters and in the 2016 election and the 2018 midterm elections, we show an increase at the polls at student heavy precincts," Hillerud said. "Despite increased turnover, younger generations still vote in lower numbers compared to older generations. We can't choose to let other people make decisions that impact our future and we want a future that works for us."
Haskell, who just finished his first term as youngest state senator in Connecticut at the present moment, said that young voters can help bring new conservations to the state capital, such as mental health and sexual assault on college campuses and climate change.
"I am in my very first term as a state senator and I can say definitely I would never have won unless young people decided not only to show up to the polls, not only to get absentee ballots and send them in but also to register their friends and to go knocking on doors and have uncomfortable conversations sometimes with their families, friends, neighbors and talk to their apolitical friends about why it is important to vote every year, not just every four years," Haskell said.
Rep. Haddad said that votes from young voters, especially during COVID-19, will make sure their issues can be addressed, such as the rising cost of higher education.
"Voting is critical to make sure that you are a constituent that can't be ignored in the general assembly," Rep. Haddad said. "You do that by both making sure your voices are heard by those who are elected and you do that exceedingly well but also by shaping who gets elected and you do that by participating."
Crow said that the New Vote Campaign will help change the social culture that young voters do not matter as much as other votes.
"One of the things that needs to be done is and has been done especially by organizations like PIRG and what we have to continue to do is to look for ways in which we can break through and show that what really matters is that students do indeed care and student's opinions do indeed matter and this idea that somehow because somehow we are younger and we should have less of a say is absurd and I think everyone here today is emblematic of that," Crow said.
Diaz said that UConn Collaborative Organizing aims to address social injustices and climate issues and voting is the way to create a change.
"Policies change lives and participation makes a difference and voters are part of our future," Diaz said.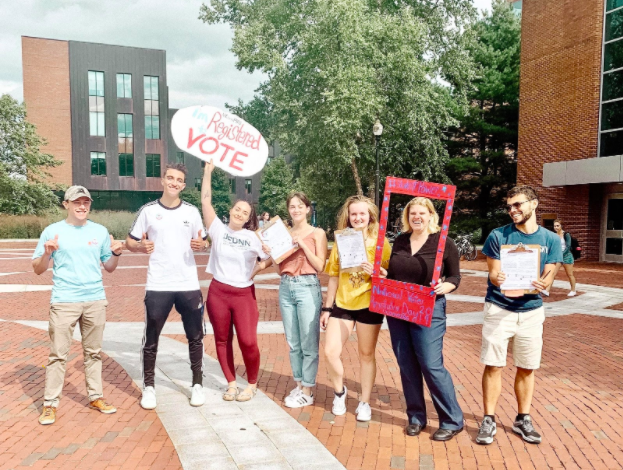 As the last speaker, Holland concluded the Zoom call by saying that voting is a privilege and should be treated as such.
"In democracy, election is the great equalizer to citizens," Holland said. "At the ballot box, no matter how financially successful you are or how well connected you are, your voice is valued the same as any other."
Holland said that it is a civic responsibility for young voters, especially young people of color, to vote.
"It is important to vote because those who win office are the ones who govern us. More importantly, because they are those who can not govern for themselves," Holland said. "As a Black man in America, I have to utilize my right and my duty to govern myself and make the decision that will help govern the place where I reside. The place where my people still need so much more help and pursuit of institutionalized change and equity tenfold. Who will make decisions for us if we do not make them for ourselves?"
Rachel Philipson is a staff writer for The Daily Campus. She can be reached via email at [email protected].